Affordable 1099 E-filing
Solution Without Minimums
or Hidden Fees
No minimum fee, no hidden costs
Rolling pricing across all payers
No extra fee for incremental e-filing
Get started for free
★ ★ ★ ★ ★
Track1099 receives 4.92 out of 5 stars by thousands of our clients.
PRICES ARE ALL INCLUSIVE
*No state W-2 filing, 94x must be signed & mailed

Postal mail to Recipients Price
If you're missing recipient email, Track1099 offers weekly mail Jan. through Apr. for +$1.75 per form. An express service is offered Jan. 27-31 for an extra +$1 per form.
Foreign postage adds an extra $1.75.
Or, you can download a PDF after scheduling e-file and mail yourself for no additional charge on plain paper; no special IRS forms are required.
Please see our Postal Mail Video.
Address is formatted for #10, double-windowed envelopes.
Address verification is offered for $0.05 per form.
State E-File Price
$1.29 per form
Not all states require filing
Do I need to do state filing?
TIN Matching Price
Use our TIN Match service for $0.39 per form
Or, get a bulk TIN Match file at no additional cost
We submit Name, TIN type and TIN to the IRS
The IRS returns pass or fail within 24 hours
Online W-9/W-4/W-8BEN Price
W-9 pricing is separate from our 1099 price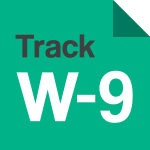 Annual Subscription
Individual
25
W-9, W-4, W-8s
$9/per year
unlimited companies
Professional
250
W-9, W-4, W-8s
$59/per year
unlimited companies
Enterprise
2000
W-9, W-4, W-8s
$199/per year
unlimited companies
Corporate
9000+
W-9, W-4, W-8s
$399/per year
unlimited companies

E-file times and refunds
We e-file each day around 8pm PST. We e-deliver throughout the day beginning at 1pm PST.
You can request a refund up until IRS or State e-file or recipient e-delivery is sent.
After e-filing or e-delivery, we do not offer refunds. No refunds are given for postal mail once it's been sent.